Making the Most of a Career Fair
By Helen Godfrey, MA, NCC, BCC, LPC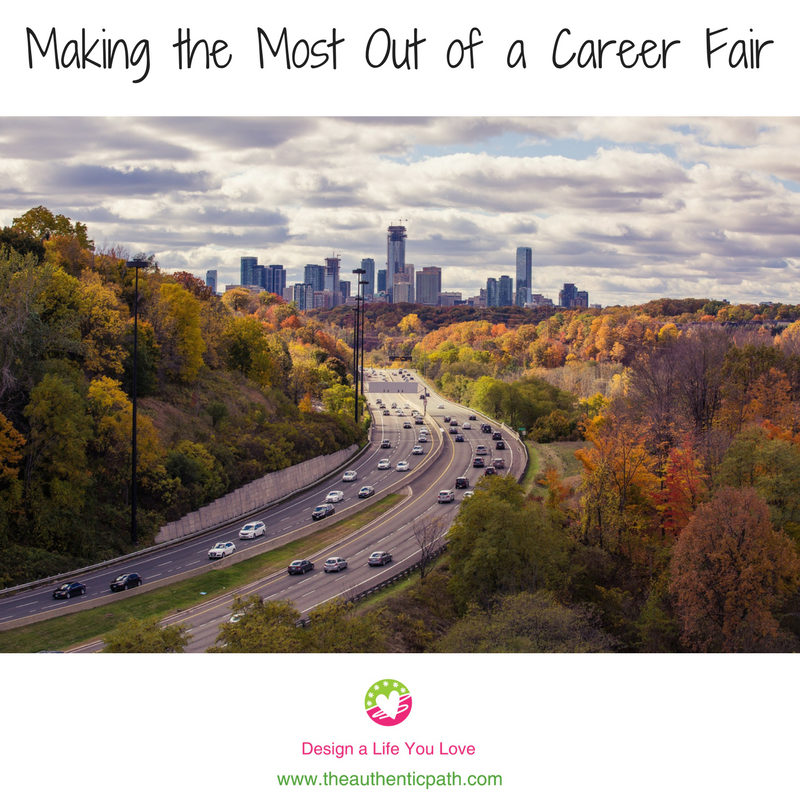 Career fairs can add a personal touch to a job hunt that often takes place online. Use these techniques before and during a career fair to help you make a better first impression. Know that some companies attend career fairs for marketing purposes only and they may ask you to apply online. Try not to be discouraged and pivot into asking for advice about the online process as well as about the company culture. Ask questions that you could not easily research online. You want to come across as prepared and knowledgeable. Your questions will reflect that.
Before a Career Fair
1. Clarify your purpose. Know what you want to achieve. You may be looking to line up interviews with specific companies as soon as possible. On the other hand, you may be at a stage where you just want to learn more about organizations that interest you. Have questions that show the recruiter that you've done your research based on your goals.

2. Research each fair. Visit the website for every job fair you attend. Get familiar with the sponsor and the employers who are expected to attend. Do more extensive research on the companies that look like the best match for you.

3. Polish up your resume. Proofread your resume and bring along multiple copies on high quality resume paper or stationery. If you're considering jobs in more than one field, make different versions emphasizing your most relevant qualifications.

4. Print business cards. Simple business cards are inexpensive to print, especially if you get a template that lets you do it yourself. Hand out your card to representatives who have a policy against accepting full resumes at the event.

5. Rehearse your opening lines. Expect to make a brief introductory speech at each booth you visit. Practice stating your name, summarizing your background (including a couple of top accomplishments), and describing the position you want. Keep at it until you can do this in about 30 seconds to 1 minute and sound natural doing it. You may find this article helpful: How to Create an Elevator Pitch Employers Want to Hear

6. Recruit a friend. Attending these events solo is fine but you may also benefit from the support of a friend. Touch base at strategic intervals to encourage each other and share feedback. Do not bring a significant other and hold hands throughout the event. The only reason I mention this is because I have seen this happen. It does not come across as professional.

7. Dress to impress. As the saying goes, dress for the job you want, not the job that you have. The event may say business casual, however, when in doubt a suit is usually the way to go. Shower in the morning, use deodorant, skip the perfume, wear simple accessories, and of course, have clean finger nails. Ensure your shoes are comfortable enough for hours of walking and give them a quick shine on your way out the door to the event.

8. Volunteer your services. Volunteering is a great way to get inside information and make personal contacts. Call the organizers in advance to see if they can use your services. Make sure you will have time to attend the fair as well. Be clear on the expectations.

During a Career Fair
1. Get there early. By arriving early, you will catch the recruiters while they're still fresh. You may even have the chance to offer a helping hand to a recruiter who is juggling multiple packages for their table set-up.

2. Focus on your top prospects. Practice your pitch on some likeable and respectable companies first to work out the kinks. Make a list of companies you think you must see. Apply for the jobs in advance so your introduction can be, "Hello, My name is…. . I applied for….and I just wanted to introduce myself in person." Budget your time so that you can talk with all your best leads.

3. Give yourself plenty of time. Schedule more time than you think you need. You'll be able to take advantage of any additional opportunities and you can always go home early if you finish ahead of time.

4. Be friendly. Remember to smile, shake hands, let people know you're glad to meet them, and that you're enthusiastic about their organizations. Employers evaluate your interpersonal skills as well as your job-related skills and experience. Network with the other job seekers in line. You never know who you may meet. You may leave with a new contact who can connect you to someone at your dream job. Practice your elevator pitch on each other while you are waiting.

5. Take it easy on the give-away items. Although all those free key chains and water bottles may look tempting, to maintain a professional appearance, limit yourself to what you can carry inconspicuously in your briefcase or tote bag. Only take 1 item from the table unless you are invited to take more.

6. Be prepared to follow up. Get the name of everyone you speak with and clarify the next step in the process. Send a prompt and personalized thank you message to express your appreciation and to keep the communication going.

A career fair is a valuable opportunity to network and introduce yourself to employers. Keep using the usual online tools and add these events to the mix to diversify your job search strategy.
Resources:
Career Fairs