Seven Ways to Lower Stress in Your Professional Life
By Helen Godfrey, MA, NCC, BCC, LPC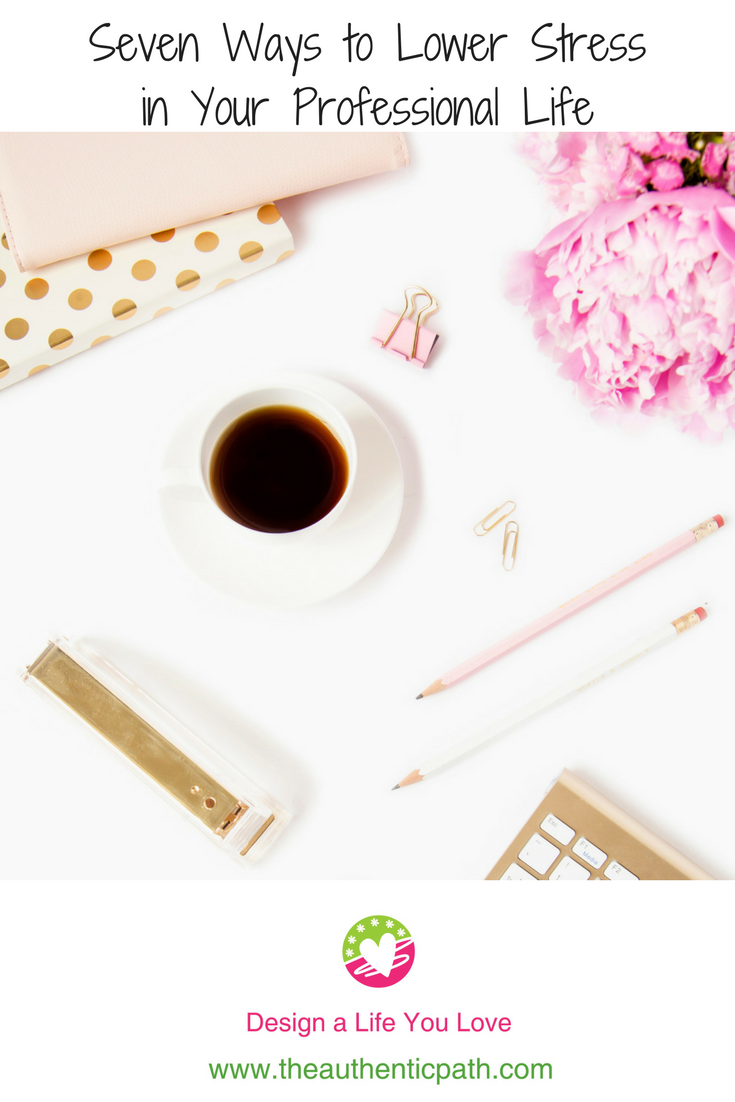 Having a career, co-workers, and customers means that you have a particular kind of stress. Unlike much of the stress in other areas of your life, professional stress is often based on the expectations of others.
With that in mind, it's important that you find healthy and productive ways to channel that stress. You'll also want to lower your stress in the first place. When you deal with all sorts of people daily, including negative people, this becomes even more important to your sense of peace and well-being at work.
Your Career Should Be Your Focus
When it comes to your career, focusing on making money and advancing your profession are both more important than the latest office politics or gossip. To be accepted, a lot of people try to be part of the group. Yet this often leads to getting little accomplished during the workday.
When you set a good example by not partaking in the gossip, you lead instead of follow. You can show your co-workers that you care and still be accepted by them, while avoiding frivolous activities during work hours. Such leadership cuts down on your stress, encourages a more positive environment in your workplace, and can even lead to promotions!
Instead of worrying about acceptance, focus on the following:
Remind yourself why you work and your future career goals.
Breathe slowly and deeply so you can stay calm.
Leave stress at the office, where it belongs.
Take a lunch hour and breaks, even if you're busy. You need time to unwind.
Get some exercise, even if it's just getting up from your desk and stretching periodically.
Listen to uplifting music with your headphones.
Plan out your day, week and month.
For someone to stress you out, get you angry, or make you feel inferior, you have to give them permission to do so. Rather than give someone a chance to make you feel bad, ignore what others do and concentrate on the things that matter to you. By the same token, if someone has constructive criticism, you may want to listen up so that you can improve as a professional. Learn to differentiate between the two. The one person who will always be in your life is you. You need to learn to rely on yourself, invest in yourself, be comfortable with your decisions, be your own best friend and focus on your career goals rather than office gossip.
Move Away from Stress
When you recognize that stress is something you want out of your life, you can start to move away from stress and toward peace and joy. It may take time, but with effort, you'll feel less and less stress controlling your workday. When feelings of worry or anxiety approach, you'll keep them at bay with a poised, thoughtful, effective responses.
The direction your thoughts take is often the direction your life takes. When you keep moving forward and focus on the things that matter to you instead of thinking about what everyone else is doing, you're able to get more accomplished. If you're only focusing on your work and future, you have a lot less to be stressed out about.
Take time for yourself, too. Make time away from work to de-stress by doing things you find relaxing. Relaxing in your personal time off the job also helps you keep your job stress at bay. Make friends inside and outside of work. If the office politics become too much and interfere in your health and ability to do your work, you will already have a network of friends who may have leads that will help you land your dream job in an office full of individuals who are more compatible with your personality and style.
Most of all, keep things simple. Focus on solutions instead of problems, take deep breaths, and remain calm. Ask yourself, "What am I learning about myself from this situation?" Uncomfortable situations help us grow. For one, you will have the opportunity to learn how to respond calmly and effectively in the workplace. Remember, we can only pick what we do; we can only control our own choices and behaviors. When you take time to reflect on how you are growing and accept responsibility for your choices, your productivity will soar, and you will reduce the amount of stress you are feeling.