Beginner's Guide to Getting a Job When You Have Limited Experience
By Helen Godfrey, MA, NCC, BCC, LPC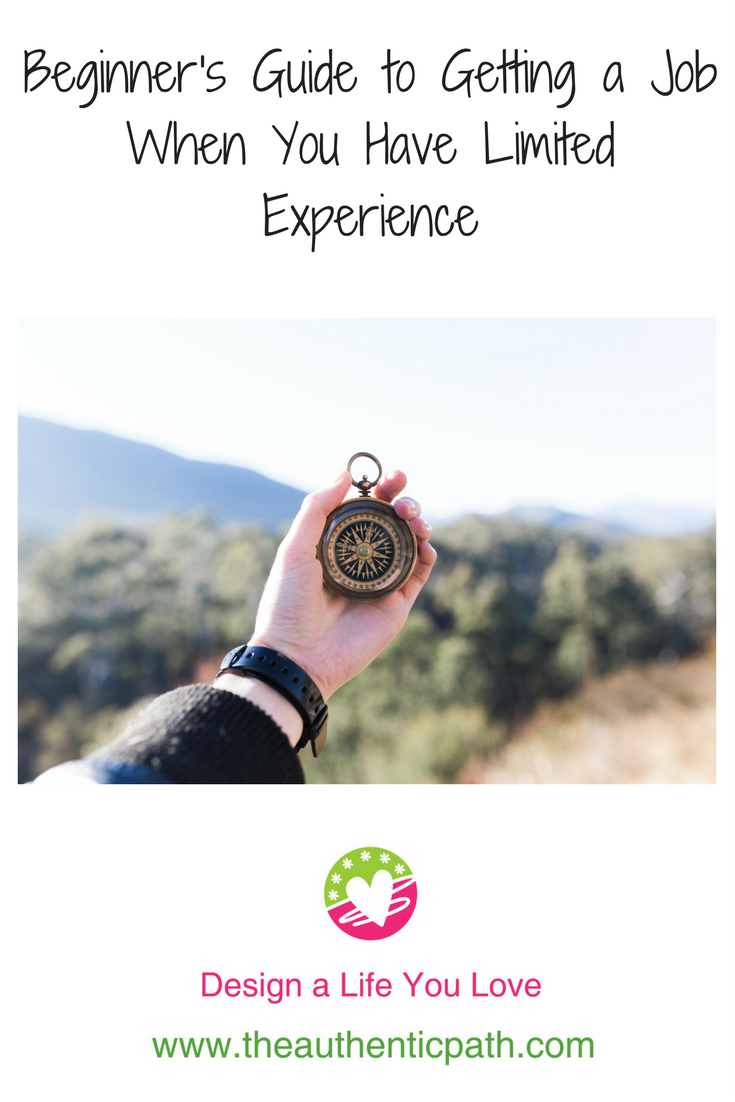 Landing a job when you have limited experience has always been perplexing because employers want you to have experience already. Today, it's even more challenging because the requirements have become more demanding even for entry level work.
Take heart. There are traditional methods that still work and innovative techniques that can help you get the job offer you want.
Traditional Strategies for Getting a Job with Limited Experience
Plan ahead. Even if graduation day is a long way off, you can take steps now to enhance your future job search. Keep in mind that it takes about 3-6 months to find a full-time job when you are going full force.
Showcase all your accomplishments. Review all the victories in your life wherever they occur. Keep a journal if you are involved in student organizations, studied abroad or have a part-time job. You may even want to document your accomplishments during your class projects. This will give you a wonderful starting point for your interview answers.

Do volunteer work. Volunteer work can help you make contacts, learn skills and demonstrate your community spirit. Pick a cause you care about and propose projects that will make the best use of your abilities. You may want to look at areas where you need more practice in your given field. Fill in those skills by volunteering. A good website is Volunteer Match.

Complete an internship. Internships are a great way to break into the workforce. Many employers hire former interns because they get to know you and value your contributions. If you are reading this article before you graduate, make getting an internship a priority. Treat your internship like a professional job. Make sure you call your supervisor if you are going to be late. Plan your studying time and communicate your finals schedule ahead of time and run them by your supervisor. A helpful website is: http://www.internships.com
Remember, for employers, this is the equivalent of a 3 or more month interview. They are observing you day in and day out. Even if they don't have a full-time position for you once your internship is complete, they may know someone who does so be mindful and intentional about how do you conduct yourself, how you interact with your colleagues, how you communicate with your supervisor and, of course, the quality of your work. If you have already graduated, you may want to Google rotational programs. Many companies offer rotational programs to entry level graduates.
Seek part time jobs. Summer jobs and after school work count. Be strategic about the type of work you seek. Even if you cannot land your dream job, aim to land in your dream industry or company. This will give you the opportunity to network within the company/industry and work your way into your dream job.

Format your resume to your advantage. Highlight the information that is most relevant to the type of job you are seeking. You may want to showcase both your academic and extracurricular activities. You may find this article helpful: How to Write a Great Resume

Focus on transferrable skills. Good employees are usually team players who can communicate well and solve problems. Go into interviews prepared with stories that prove you've got what it takes. Start listing out qualities that you know someone would need in this position. What are your examples? Keep your story to 1-2 minutes. Just as you would not run a marathon without training or, most likely, take a final exam without studying, you should treat your interview the same way. Practice, practice, practice.

Use referrals and testimonials. Ask people to write testimonials on your LinkedIn profile. Ask contacts for advice and insight on the companies you are targeting.
Network vigorously. Take every opportunity to network. Have about 5 ideal companies and 5 ideal job titles lined up that you can share with your contacts. Help them understand what you are looking for in a job. Attend industry events and follow up on promising leads. You may find this article helpful: Networking When You Hate Networking

Be honest. It's wise to make the most of your accomplishments, but avoid exaggerating. If you are really prepared for your interview, your stories will showcase your transferable skills and you won't feel the need to exaggerate. Make sure you connect your transferable skills to the type of position you are seeking now. Being general and vague will not help you. Tell stories, "I remember one day…", "I remember one time….", "I remember this one customer…". You may like this article and you will definitely get a kick out of the video at the end of the article: Interviewing: Are You Making These Mistakes?

Be willing to start small. Aim to get your foot in the door. You may not land your dream job right off the bat but you may be able to network your way into that position if this is your dream company/industry. You may be able to negotiate a higher salary later after you deliver results as well.

Maintain a professional image. Dress for the next position you aspire to. Ensure your conversation and humor are appropriate for the company culture.


Innovative Strategies for Getting a Job with Limited Experience
Start a blog. Writing skills are essential for many careers. Give employers a link to your professional blog about your chosen field.

Take advantage of social media. Identify people you want to meet online and do some background research. You may already have connections that can help put you in touch to ask for advice.

Use search filters. Many job search engines have filters where you can sort jobs by the years of experience required. It's an easy way to save time and eliminate dead ends.

Put together a multimedia portfolio. Technology makes it possible for anyone to put together a dazzling digital presentation on a low budget. Use videos, photographs and work samples to set your job application apart from the pack when appropriate for your industry.

Try looking for jobs with key words such as "entry level" and "coordinator." You may also want to explore rotational programs where you have the opportunity to explore different areas in the company. If you are interested in living and working overseas, The Peace Corps and JET Programme are both excellent choices (I was in both so feel free to reach out to me if you have questions). GradReach helps entry level employees in the Houston area with additional locations in the works.
Hard work and strategic thinking can make your job search successful even when you have limited experience. Network, get creative and be persistent. We all have to start somewhere. Let these strategies help you sell your potential to a new employer.