A Beginner's Guide to Salary Negotiation When You're Intimidated by Rejection
By Helen Godfrey, MA, NCC, BCC, LPC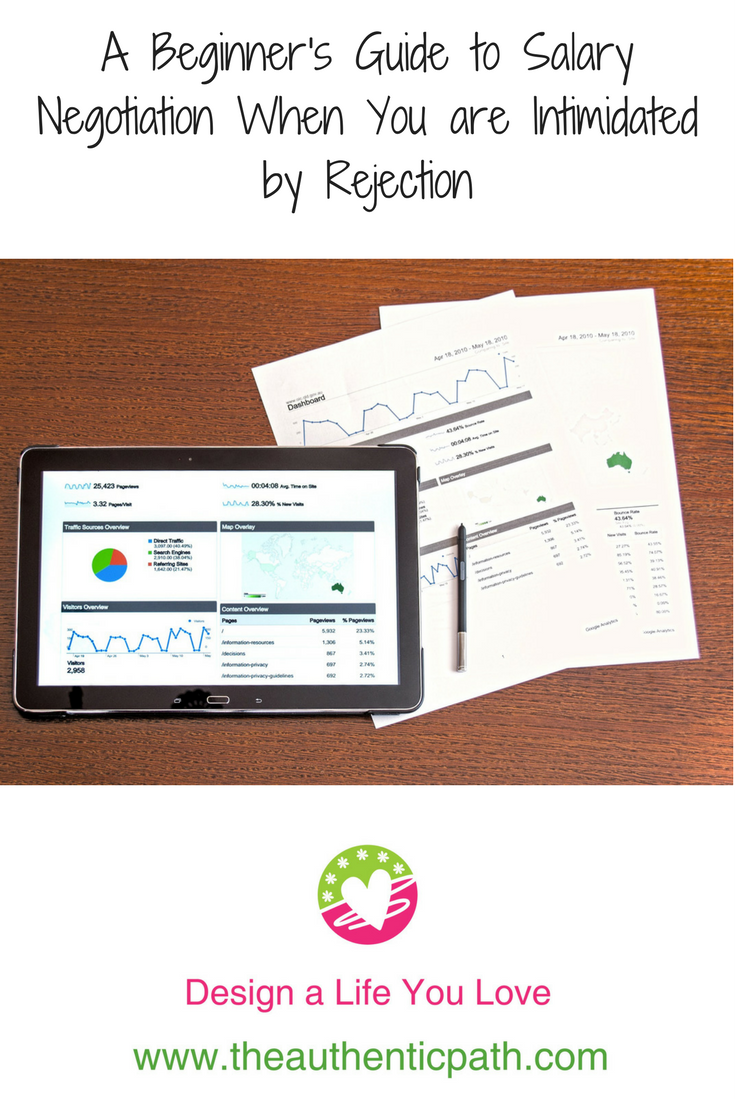 If you're terrified of losing a job opportunity if you negotiate your salary, keep on reading. Salary negotiation tends to be difficult for most people because, at least in the United States, we don't typically negotiate prices for anything. Maybe when we buy a house, but the relator is the one who passes on the message to the home owner. Maybe for a car but, when you think about it, if you aren't happy with the price it isn't too hard to find another car. A job, on the other hand, is not quite as easy to come by and deeply personal.
You have probably been looking for work for about 3-6 months, you have sent out more resumes than you can count and finally, you have found the job that you have been looking for but the salary is a bit less than what you hoped. Also, I am guessing that, if you are reading this article, you must be difficult for you! Just the thought that your efforts could be met with rejection might be enough to discourage you.
So where do you go from here? How do you get past those obstacles even if your first attempt fails? Getting past rejection may not happen overnight, but it's certainly possible. In fact, what you really need is a guide to successful negotiation. Getting tips that keep you focused on your mission can ensure that you persevere.
Check out these great ideas for gaining the upper hand. But first, before you even start the negotiation, make sure you focus on your enthusiasm on getting then offer. Then prepare with negotiation tips below.
1. Believe in your point of view. By far, this is the most important element of successful negotiation. You absolutely need to believe in your point of view in order to sell it! This is the best way to show someone that you're prepared with a great idea.

· When you're confident, it shows in your eyes, voice and body language. People are quicker to pay attention when they realize you stand behind your negotiation point.
· If you're not sold on your point of view, chances are the other person may not take you seriously.
· Standing behind your case gives you the bargaining ability to win over the other person.
· Do your research. Get an idea of the going salary in your industry as well as the cost of living if you are moving to another city.
· Here are some resources you may find helpful:
o Payscale
o Salary.com has a side by side salary calculator that compares the cost of living in various cities.
2. Prepare your case. Now that you believe in your point of view, it's time to plan your approach. Decide how to express your case for the best possible results.

· Is there any backup information you need to help support your case? What are you bringing to the table that other applicants may not have? What makes you unique? Prepare in advance by scripting out your selling points.
· Know your case inside out. If you're selling something that you know somebody wants, be able to negotiate and tell them why they want it! Connect your past experience and skills to their pain points, that is, to what they need and their priorities.
· Prepare solid examples that will turn their possible resistance into a "yes."
· Be clear about what you want. What is your ideal outcome? A higher salary? More vacation days? Are you willing to take one for the other? For example, if you are unable to get a higher salary, you may be able to negotiate more time off. Know what you are willing to accept in advance. If it's a great job at a great company or even a not so great job at a great company, you may want to consider the offer.
3. Embrace your human equality. At the end of the day, you're just as good as anybody else. Avoid allowing your feelings of inadequacy to convince you to shy away from negotiation.

· Remember that rejection doesn't make you a failure. It simply gives you the opportunity to fine tune your approach. After all, experience is the best teacher!
· Avoid contemplating that the other person may not want to negotiate with you. Think positively!
· You deserve the opportunity to negotiate your point. Seize it and make the most of it!

4. Consider the worst that could happen. Take a moment and really consider the possible outcomes. What's the worst that could come out of your attempts at negotiation? Just how life-crushing do you think the rejection could be?

· If you're honest with yourself, you'll realize that you're probably making it seem worse than it is.
· The worst thing you can hear is "no." And so what if you do? What possible damage can that word do to you? Absolutely none! Remember: if you don't ask, the answer is definitely no.
Rejection is a natural, ever-occurring part of life. You can expect to face rejection throughout life so it is good to learn healthy coping mechanisms early on.