5 Ways to Make Your Job More Meaningful
By Helen Godfrey, MA, NCC, BCC, LPC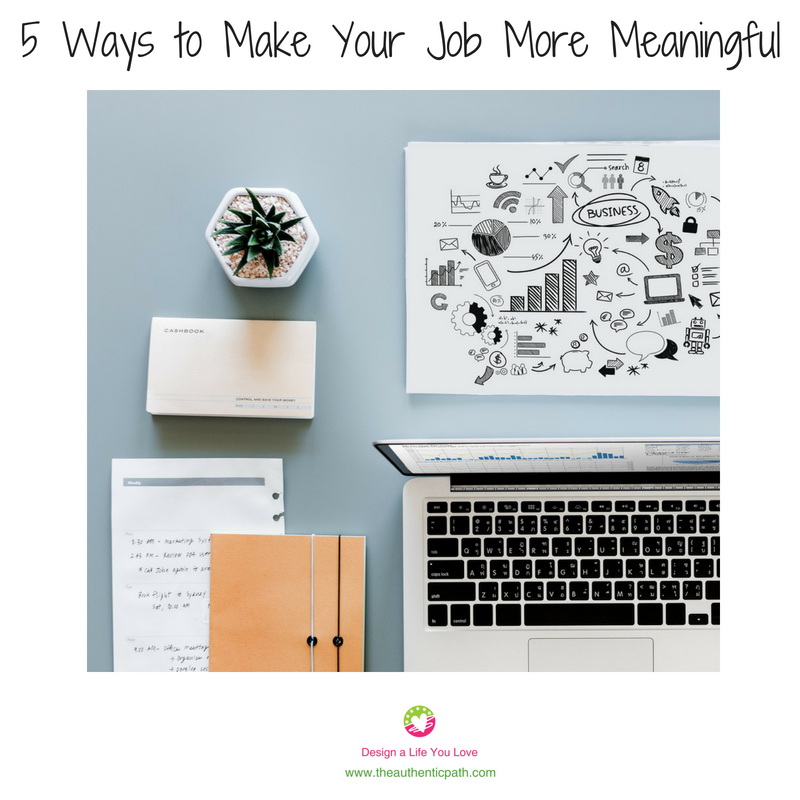 No matter where you work, a supermarket, the library, a school or an accounting firm, you can make your job more meaningful. According to some studies, nearly two thirds of Americans are dissatisfied at work. While you probably need your boss to approve a raise or a bigger office, these are some adjustments you can make on your own. Take a look at these 5 ideas for incorporating more purpose into your job.
Serve Others:
1. Help your coworkers. Our relationships with our colleagues play a significant role in our happiness at work. Pitch in with assembling press packages or proofreading the annual report, time permitting. Bring a box of donuts or make gourmet coffee for everyone to share.
2. Create a great customer experience. You can brighten someone's day by going the extra mile. Take time to answer questions for both internal and external customers. Thank them warmly for doing business with you.
3. Advance the organizational mission. If your employer directly contributes to society, you can find gratification in being part a team that makes the world a better place. Maybe you get to raise awareness about lung cancer or help design safer cars. If your company's mission is not as obviously socially focused, it may organize volunteer days so sign-up and bond with your co-workers.
Develop Your Talents:
1. Strengthen your communication skills. Communicating effectively is a requirement for almost any job. Find a mentor and ask for feedback about how you come across in writing and in person.

2. Practice your leadership skills. Strategic thinking and inspiring others are valuable traits at every stage in your career. Welcome projects that give you a chance to prep for future challenges.
3. Sign up for training. Take advantage of opportunities for lifelong learning. Many companies have budgets for continuing education. Do some research and find some relevant classes that will help you in your career. Don't forget to learn for fun too. Study a foreign language, take art classes or a writing class. Tap into a different part of your brain and expand your horizons.
Express Your Creativity:
1. Upgrade your presentations. Make the most of your reporting responsibilities. Dazzle your supervisor with a multimedia presentation and compelling graphics when they ask you to research recycling vendors or conference venues. Make sure you use spellcheck and, for extra safety, have a trusted colleague review your work before you submit it.

2. Start an ambiance committee. Attractive and neat surroundings aid productivity and morale. Suggest forming a committee to make recommendations on how to beautify the office. Coordinate a company-wide cleanup day.

3. Share your hobby. Welcome your passions into the workplace. You could bring in flowers from your garden or take photographs at special events.
Have Fun:
1. Plan a party. Organize birthday parties for your department. Offer a surprise breakfast to celebrate National Dance Like a Chicken Day.
2. Promote good health. Encourage friendships and fitness. Put together a company softball team. Negotiate a group discount at a local gym.
3. Look at the funny side of things. Search for the humor in any situation. Look forward to the customers who bring in pictures of their pets to form a deeper bond.
Prepare to Move On:
1. Network extensively. If you believe it's time to look for a different position, you can still use your time constructively. Try to make more contacts with people who can help you advance your career. Attend meetings and volunteer at the nearest chapter of your professional association. Invite people out to lunch and send them articles they might find helpful.

2. Document your accomplishments. Record achievements that sound impressive on your resume. Adding value during your last days on the job will keep you motivated and energized. Consider writing or updating the training manual for your successor.
3. Facilitate the transition. Remind yourself of what you like about your job and why you're grateful to your current employer. Find out the processes and procedures for leaving to make a smooth transition. Where do you return your keys? Parking pass? ID? Be sure to clean out your desk and wipe everything down.
Even trivial tasks feel important when you understand why you're doing them. Feeling more content at work will not only reduce stress but it will also add more meaning to your life.
Additional Resources
How to Develop a Career Plan That Will Bring You Happiness
Seven Ways to Lower in Your Professional Life
Stuck in an Unrewarding Career? Find the Way Out with These Four Ideas
The Business of Purpose Finding Your "Why"